Paden, Bill
Evanston, Ill.
wpaden@northwestern.edu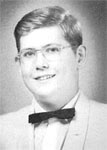 2006 Update
Family: Wife Frances (Fran) Freeman Paden, two children; Catherine has just begun teaching Political Science in Boston, Will is devoted to ski-boarding in Vermont.
Current activities: Just began semi-retirement as professor of French after 38 years, loving it. Completing a book of English translations from medieval poetry, in collaboration with Fran.
Plans for the future: Projects in research; travel to New England, especially if both children stay there; to France as often as we can.
Memories from Lawrence High Days: Debate team with Victor Capper, then with Rachel Boulton; Latin with Gertrude Ruttan; math class with Jack Hennington; good friends; is it true that LHS lost a total of
one football game in our three years?
Price, Jr., Griffith
Bethesda, Md.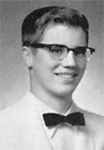 2005 Newsletter
Family: Spouse Nancy Rhodes, four children (two from first marriage)
Notes of my life: Went to college in Boston and law school in New York City. I planned to move to California after law school, but my girl friend at the time (later my first wife) was living in NYC so I stayed for 22 years. She was born in Bogotá, Colombia, but went to high school and college in the U.S. We have two children, a boy and a girl, who are now 30 and 26 years old.
In the late 1980's we moved to Washington, D.C., where I joined my present firm that specializes in patent, copyright and trademark law. My first wife and I separated in 1993 and were later divorced, and in 1997 Nancy Rhodes and I got married. Nancy is a native of Vermont, but grew up in Africa and South America because her father was in the Foreign Service. We now have two children, both girls, ages 5 years old and 5 months old respectively (bet these are the two youngest children of anybody in the Class of '59).
No grandchildren yet — neither of my older children is married.
I'm continuing to practice law and enjoying it as much as ever. With two youngsters in the house, I'd better! My father and two of my sisters (Lucy, LHS '65, and Edwina, LHS '67) still live in Lawrence, so I get back home from time to time, most recently last month after my mother's death at age 96. Hope I live as long.
Plans for the future: To attend the 50th reunion.