Norris Kohlman, Linda
Colorado Springs, Colo.
dnlkohlman@msn.com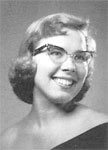 50th Reunion
Married 50 years with two children and two grandchildren.



I've been able to live the life I chose when young; to be a nurse and have great family. How lucky can I be!
Career as nurse: cardiovascular/diabetes management — 1) Intensive/Coronary care units, 2) Clinical Coordinator/Patient Educator Internal Medicine practice, 3) Director Diabetes Management Clinic, 4) Independent consultant (taught national seminars).



Retirement Volunteer: 1) Coordinator Diabetes Clinic — for low income/uninsured patients, 2) Work at Hospice, 3) Serve on boards (Cystic Fibrosis, KU and KUMC).



Dave and I love time with family, hiking, skiing, traveling (recent trips hiking New Zealand's Milford Track and Grand Canyon), reading, opera, and visiting with friends.



My plans for the future are to cherish each day and survive. I'm on a senior women's volleyball team; some days survival is in question.
2004 Reunion
Family: Husband Dave, 2 sons, 2 grandchildren
Notes of my life: Worked in the field of cardiovascular and diabetic management and education as a nurse for 30 years.
Current Activities: Retired 2 years ago and volunteer in Hospice and at a medical clinic for underinsured/uninsured . Travel, ski, read, hike, camp out, spend time with family, go to symphonies/operas.
Plans for the future: Continue with current activities, maybe move up into the mountains by a stream, in Colorado.
Memories from Lawrence High Days: Good friends, good music, good sports, and good education. Unfortunately memories fade as I get older!