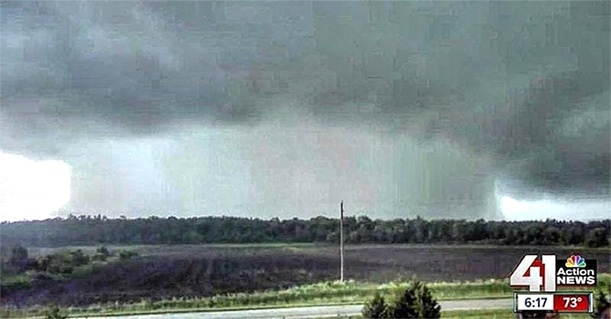 Written by Marsha Henry Goff for the Class of 1956's Web Site
The tornado that struck Lawrence was a mile wide and is in the middle of this rain shaft (four to five miles wide) that concealed it. Ray thinks this photo looks like the detonation of an "atom bomb." We are truly fortunate that its trajectory was not due east instead of northeast (for a while forecasters said it was headed east directly toward us). It was not so fortunate for those in its northeasterly path. It struck rural neighborhoods but did not enter the city limits where the housing was denser; otherwise, the damage would have been even worse.
I am respectful of what a tornado can do, but a watch or warning doesn't scare me. While an actual tornado headed toward us would terrify me, as long as we can scan the horizon and not see a tornado, we're good. From our hill, even with the forest Ray has planted around us, we've got a 360 degree view. However, when we received this notice from the National Weather Service, it got my attention and we moved to the lower level.
Tornado Warning
Beginning: 2019-05-28T23:18:00
Ending: 2019-05-29T00:00:00
New Alert
...TORNADO EMERGENCY FOR SOUTHEAST LAWRENCE AND EUDORA...
THE NATIONAL WEATHER SERVICE IN TOPEKA HAS ISSUED A
* TORNADO WARNING FOR... EAST CENTRAL DOUGLAS COUNTY IN EAST CENTRAL KANSAS...
* UNTIL 700 PM CDT. * AT 616 PM CDT, A CONFIRMED LARGE AND DESTRUCTIVE TORNADO WAS OBSERVED NEAR PLEASANT GROVE, MOVING NORTHEAST AT 30 MPH.
TORNADO EMERGENCY FOR SOUTHEAST LAWRENCE AND EUDORA. THIS IS A PARTICULARLY DANGEROUS SITUATION. TAKE COVER NOW!
HAZARD...DEADLY TORNADO.
SOURCE...RADAR CONFIRMED TORNADO.
IMPACT...YOU ARE IN A LIFE-THREATENING SITUATION. FLYING DEBRIS MAY BE DEADLY TO THOSE CAUGHT WITHOUT SHELTER. MOBILE HOMES WILL BE DESTROYED. CONSIDERABLE DAMAGE TO HOMES, BUSINESSES, AND VEHICLES IS LIKELY AND COMPLETE DESTRUCTION IS POSSIBLE.
* THE TORNADO WILL BE NEAR... SOUTHERN LAWRENCE AROUND 620 PM CDT. EUDORA AROUND 635 PM CDT.
PRECAUTIONARY/PREPAREDNESS ACTIONS...
TO REPEAT, A LARGE, EXTREMELY DANGEROUS AND POTENTIALLY DEADLY TORNADO IS ON THE GROUND. TO PROTECT YOUR LIFE, TAKE COVER NOW! MOVE TO AN INTERIOR ROOM ON THE LOWEST FLOOR OF A STURDY BUILDING. AVOID WINDOWS. IF IN A MOBILE HOME, A VEHICLE OR OUTDOORS.. MOVE TO THE CLOSEST SUBSTANTIAL SHELTER AND PROTECT YOURSELF FROM FLYING DEBRIS

OK, we're from Kansas, so we didn't head to the unfinished windowless area. I sat on the couch in the family room next to the solarium with all its windows while Ray stood in the backyard and scanned the sky. We were blessed that the tornado's trajectory skirted us. Unfortunately, several of our friends who lived in its path lost everything except their lives. Seventeen people were injured, but only three required hospitalization.

This Youtube video of drone footage of the Lawrence tornado shows what 170 mph winds did the first rural neighborhood near 59 Highway and N 1000 Road that it hit. Note the capriciousness of the winds. Some buildings still stand with no apparent damage, others are greatlydamaged and some are just swept away. Here's the link: https://www.youtube.com/watch?v=5jfEEzbIPBs...